Pemekaran Desa Dalam Rangka Peningkatan Pelayanan Publik Di Bidang Kesehatan Berkebutuhan Khusus
Abstract
need special.This research theme concerning the expansion of the village aims to improve public services in the areas of health need. The research method used was qualitative research with the descriptive approach which uses analytical methods Milles Huberman. Background this study was to see how the process of the expansion of existing villages and public services in the field of health need in a general purpose Sidoharjo Village to prosper society. The results of research, expansion of villages not yet everything according to the requirements that exist among other requirements regarding the ability of the economic, social and political well-being level is still lacking. After the expansion of village public service is in compliance with the methods of public service is aksestabilitas, teknikalitas, protabilitas and accountability. In the implementation of the public service in the field of health, in need becomes a factor supporting the specific existence of socialization as well as any assistance from the Government and non government. Factor inhibitor, socialization which is still less than optimal, aksestabilitas is still lacking and the mindset of society remains low.
Key word: Public Service, Special Needs in the Health Sector
 
Abstrak: Pemekaran desa dalam rangka peningkatan pelayanan publik di bidang kesehatan berkebutuhan khusus. Penelitian ini bertemakan mengenai pemekaran desa yang bertujuan untuk meningkatkan pelayanan publik di bidang kesehatan berkebutuhan khusus. Metode penelitian yang digunakan adalah penelitian kualitatif dengan pendekatan deskriptif yang menggunakan metode analisis Milles Huberman.Latar belakang penelitian ini diangkat untuk melihat bagaimana proses pemekaran desa yang ada dan pelayanan publik dibidang kesehatan berkebutuhan khusus di Desa Sidoharjo yang tujuan umumnya untuk mensejahterakan masyarakat. Hasil dari penelitian, pemekaran desa belum semuanya sesuai dengan persyaratan yang ada antara lain persyaratan mengenai kemampuan ekonomi, tingkat kesejahteraan dan sosial politik masih kurang. Setelah adanya pemekaran desa pelayanan publik sudah sesuai dengan kaedah pelayanan publik yaitu aksestabilitas,teknikalitas, protabilitas dan akuntabilitas. Dalam pelaksanaan pelayanan publik dibidang kesehatan berkebutuhan khusus yang menjadi faktor pendukung adanya sosialisasi serta adanya bantuan dari pemerintah maupun non pemerintah. Faktor penghambat, sosialisasi yang masih kurang optimal, aksestabilitas masih kurang dan pola pikir masyarakat yang masih rendah.
Kata kunci : Pelayanan Publik, Bidang Kesehatan Berkebutuhan Khusus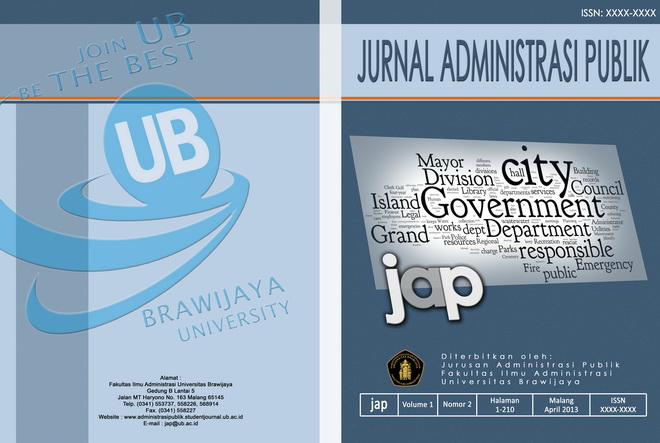 Downloads